Elevated Chicago's work is
guided, implemented and evaluated

by a Steering Committee.
Our Steering Committee is comprised of representatives from 17 organizations that work in and across neighborhoods, and throughout the Chicago region on issues of equity, opportunity, affordability, and culture and climate resilience. The Steering Committee (introduced below) and the proxy members who support them are joined by other people who support and advance the work of Elevated Chicago:
Since our launch in 2017, three working groups (WG) comprised of steering committee members and other key stakeholders have been charged with designing and implementing strategies around Capital and Programs, Systems Change, and Knowledge Sharing.

 

Also from Day One, inclusive Community Tables (CT) at our sites have informed our strategies and determined our priorities in support of capital projects, programs, policies, narratives, data, and technical assistance.

 

A council of senior leaders from across the city and region has helped advance systemic change and work plan implementation since 2018.
Our ETOD Working Group began forming in late 2019, comprised of a broad group of about people working in transit, affordable housing, community organizing, planning, public health and other issue areas; there are no more than 80 people involved
In 2021, we are launching the Elevated DEI Leadership Cohort and Equitable Development Ambassadors initiatives; the former is for city leaders to explore ways to integrate diversity, equity and inclusion principles into city planning and the latter is for residents from our eHub communities to explore how to influence the principles of neighborhood development with community-driven action.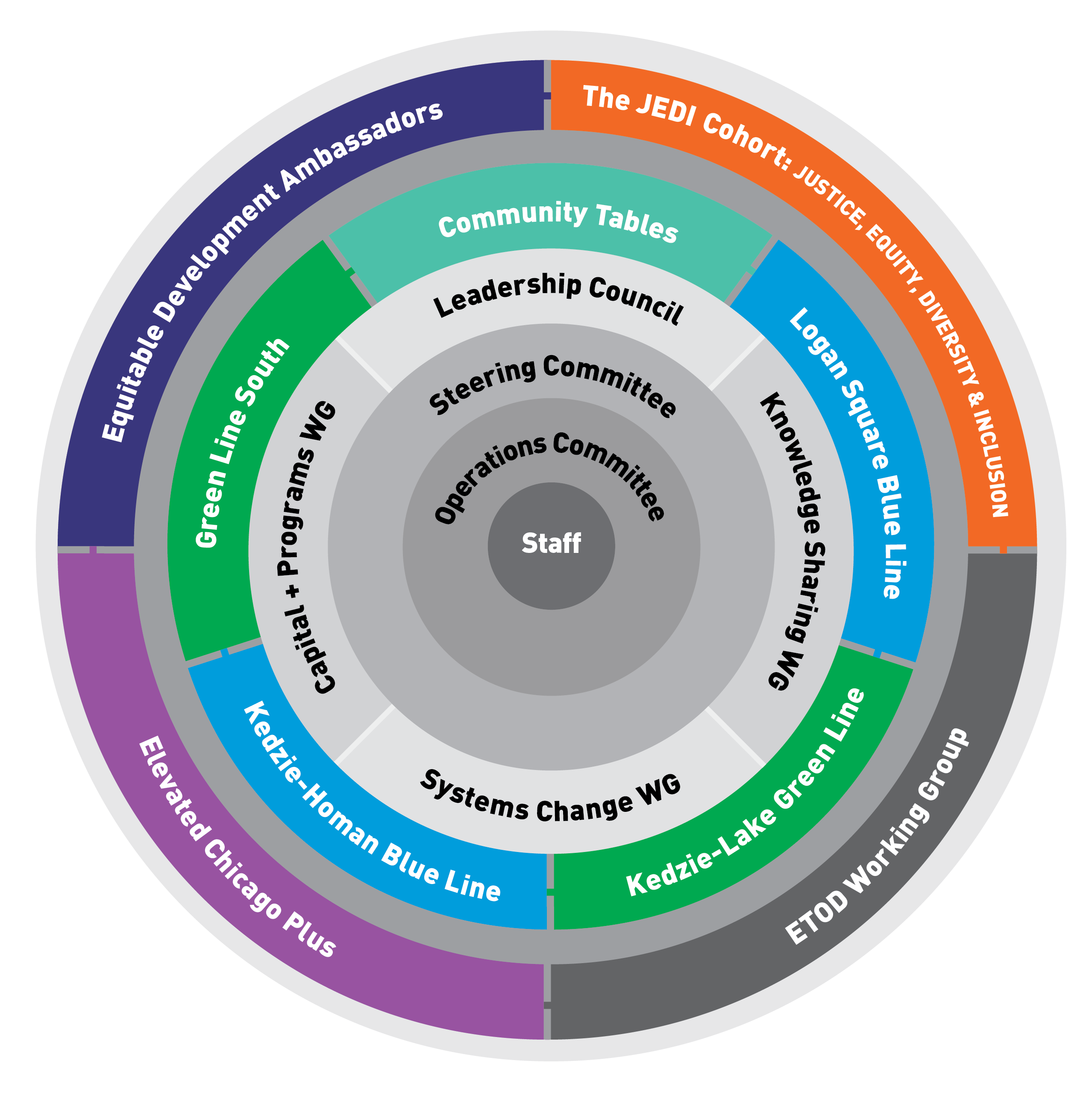 Our Steering Committee

(as of May 2021)
Lead funding for Elevated Chicago is provided by the Strong Prosperous and Resilient Communities Challenge (SPARCC) — an initiative of Enterprise Community Partners, the Federal Reserve Bank of San Francisco, the Low Income Investment Fund, and the Natural Resources Defense Council, with funding support from the Ford Foundation, The JPB Foundation, The Kresge Foundation, the Robert Wood Johnson Foundation, and The California Endowment. Additional funding is provided by the Convergence Partnership, Enterprise Community Partners, JPMorgan Chase Foundation, the MacArthur Foundation, and The Chicago Community Trust.






Roberto Requejo
Program Director
Program Director
Reach by phone at
312-616-8000 x249
Marly Schott
Program Associate
Program Associate
Reach by phone at
312-616-8000 x132
Elevated Chicago appreciates support from interns, researchers and consultants who currently support, or have recently supported, our work.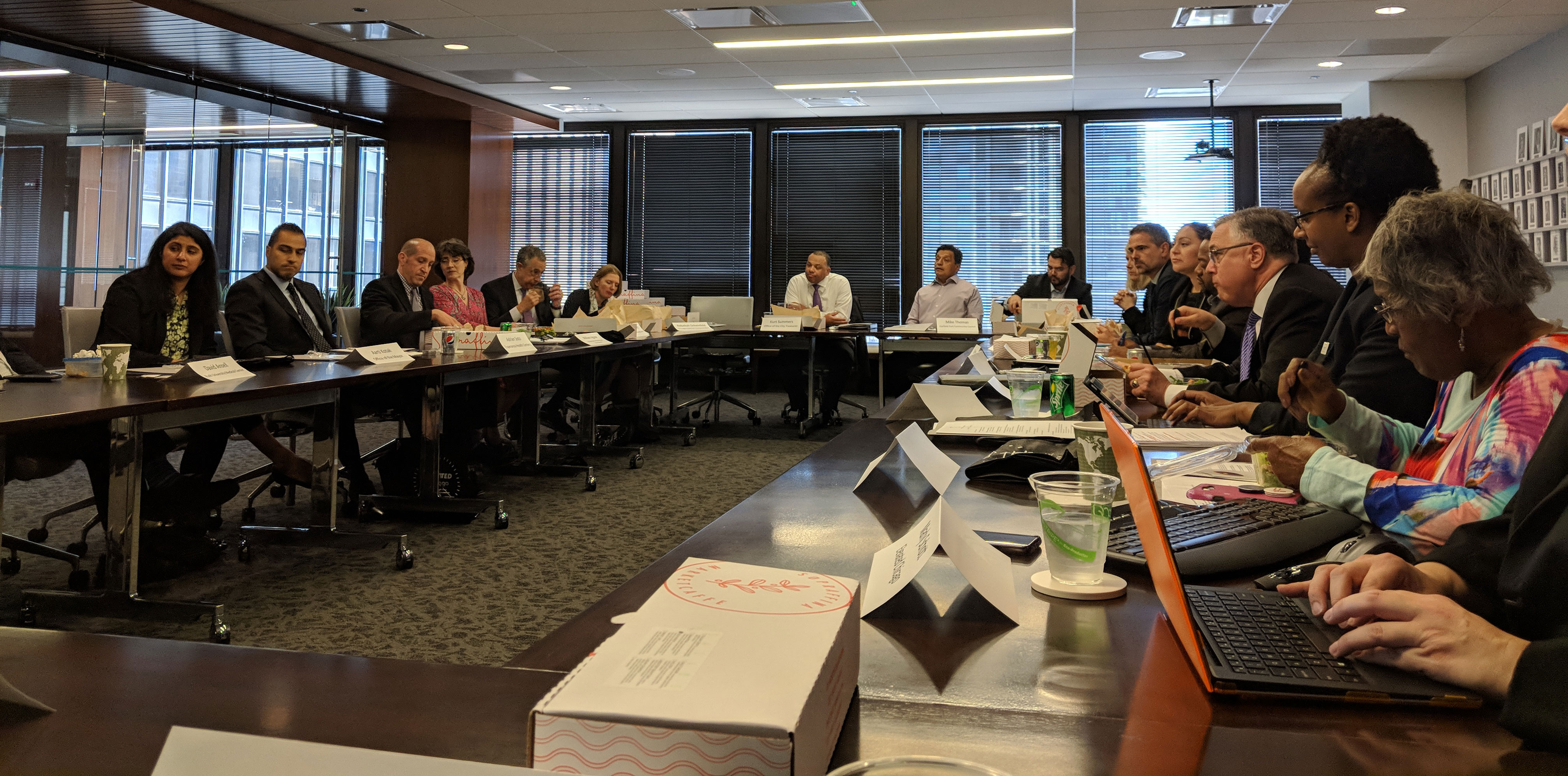 +

Chicago Department of Transportation, City of Chicago, Represented by Gia Biagi, Commissioner

+

Chicago Metropolitan Agency for Planning, Represented by Erin Aleman, Executive Director

+

Chicago Transportation Authority, Represented by Michael Connelly, Chief Planning Officer

+

City Treasurer, Represented by Melissa Conyears-Ervin, Treasurer

+

ComEd, Represented by Melissa Washington, Vice President, External Affairs & Large Customer Services

+

Cook County Land Bank Authority, Represented by Eleanor Gorski, Executive Director

+

Dept of Housing, City of Chicago, Represented by Marisa Novara, Commissioner

+

Chicago Department of Planning and Development, City of Chicago, Represented by Maurice Cox, Commissioner

+

Chicago Department of Public Health, City of Chicago, Represented by Co-chair Allison Arwady, Commissioner

+

Office of Mayor Lori Lightfoot, Represented by Samir Mayekar, Deputy Mayor for Economic and Neighborhood Development

+

Office of Mayor Lori Lightfoot, Represented by Candace Moore, Chief Equity Officer

+

Office of Mayor Lori Lightfoot, Represented by Dan Lurie, Chief of Policy

+

Rush University Medical Center, Represented by David Ansell, Senior Vice President for Community Health Equity

+

The Chicago Community Trust, Represented by Co-Chair Dr. Helene Gayle, CEO