"How can we make it easier for people to do the things we want them to do? What do we need to be doing differently — thinking differently, acting differently — when we want to make the changes we're trying to make?"
In posing this question, Chicago Department of Housing Commissioner Marisa Novara spoke to the heart of our fifth Elevated Chicago Symposium. Much of our programming was a celebration of Connected Communities, a transformational amendment of the zoning code introduced by Mayor Lori Lightfoot to make equitable development near transit hubs easier and more affordable to build, and more affordable to residents and safer for all. That policy win was a result of years of advocacy and collaboration among leaders and the Elevated Chicago family, and our symposium panels revisited the coalition-building, community engagement and systems thinking that have propelled the Elevated Chicago initiative.
Connected Communities on the ground: Implementing the ordinance
In July 2022, the Chicago City Council voted "yes" for Connected Communities. During this panel, leaders behind the provisions of the Connected Communities ordinance spoke about what it took to develop the ordinance, what are some of its early implementation highlights, and what it will take to fulfill the Connected Communities promise.
Speakers
Phil Beckham, Managing Partner, P3 Markets LLC
Liz Butler, Partner, Taft, Stettinius & Hollister
Christian Diaz, Housing Director, Palenque LSNA
Kendra Freeman, Vice President, Metropolitan Planning Council
Marisa Novara, Commissioner, Chicago Dept. of Housing
The ETOD movement: Local and national sponsors, pioneers and best practices
Leaders at the forefront of the movement spoke about the critical role of partnerships, and shared lessons around developing and financing innovative programs.
Speakers
Mike Davidson, Senior Director of Community Impact, The Chicago Community Trust
Sondra Ford, Director, SPARCC Initiative
Nina Idemudia, Chicago Recovery Plan Director, Chicago Dept. of Planning and Development
Laurie Ouding, Founder, Food Matters
Sneak preview: The Elevated Chicago Community Engagement Principles
In 2018, Elevated Chicago introduced our Community Engagement Principles and Recommendations (CEPs), a set of seven actions to integrate community member voices and interests in development and planning decisions. We are releasing a second edition of the CEPs in 2023 …get a sneak preview and get excited!
Speakers
Carlos Robles-Shanahan, Duo Development
Rafael Robles, Duo Development
What's next: Elevated Chicago in 2023
Last year, Elevated Chicago adopted its 2022-2024 Workplan, outlining People, Place and Process priorities. This workplan includes brick-and-mortar investments and the rollout of Elevated Works, a new initiative launched in collaboration with the Center for Neighborhood Technology.
Speakers
Bob Dean, CEO, Center for Neighborhood Technology (CNT)
Melvin Thompson, Executive Director, Endeleo Institute
In thinking about our symposium theme — ETOD: Our Healthy Recovery — we really wanted to reflect on the "E" in ETOD: equity. Panelist Nina Idemudia provided some practical insights to advance equity from concept to reality.
It's easy for people to say that 'equity' is a thing we should all be doing, but putting it in action can be very frustrating. What equity looks like is not just saying the word, it looks like…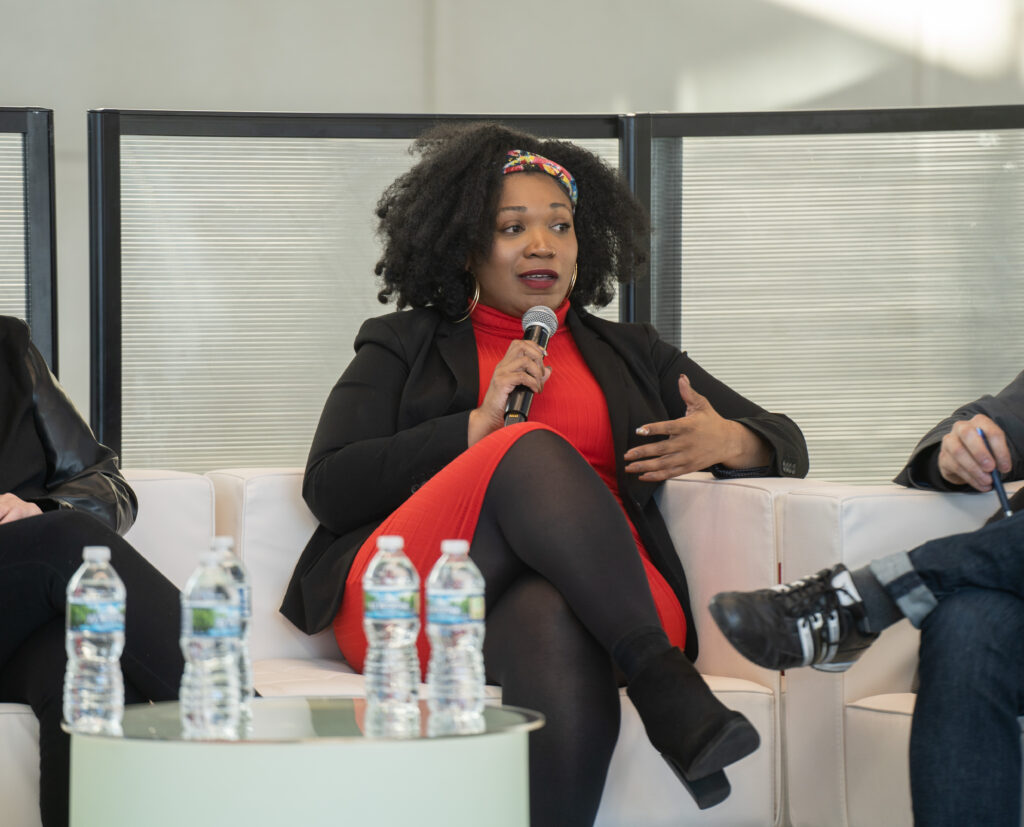 Who are you hiring?
Who's on your leadership staff?
Who's making decisions?
Who can veto those decisions?
Where are you putting your money?
Do you have data to back up where you're putting your money?
Are you being transparent about where you're putting your money?
If you make a mistake, are you being honest about it or are you hiding it?
There are many ways to embed equity into your processes and procedures. But it has to be tangible: something you can see, look at, evaluate and course-correct. Equity is not a word we can use with no meaning behind it."
Elevated Chicago thanks the John D. and Catherine T. MacArthur Foundation for its support of the ETOD Symposium; our founding funder, the Strong, Prosperous and Resilient Communities Challenge (SPARCC); and the Robert Wood Johnson Foundation. Our symposium programing would be impossible without their support.
We also want to acknowledge The Hatchery and Allies for Community Business for being tremendous host partners for our event. Twisted Eggrolls, Chin Chins by Ajoje Foods, Pies of London, Ida's Artisan Ice Cream, Black Girl Ventures, A'vents by August and Drinks on the Rocks gave us wonderful food, drink and atmosphere, which made our first time being back in person extra-special; we are grateful for their contributions. And thank you to Fidelity Printing for all of the materials that gave our event ambiance.
Last and certainly not least, we thank our digital production team Video Parachute and media partner CAN TV, led and directed by Rudd Resources, our communications agency that produced the 2022 symposium.