By: Aaron Rose
Lessons from the past inform new strategies and approaches for addressing gentrification and thwarting displacement
There's one Logan Square that is all giddy excitement: cool new shops, amazing restaurants popping up everywhere and the 606 Trail, a showcase of adaptive re-use and public green space for biking, recreation, and cultural events.  
The other Logan Square is an illustration of inequality, disproportion and dislocation, often within blocks, a story of destruction, loss, and fear. In 2017, 109 buildings were demolished in Logan Square, more than in any other Chicago neighborhood, and a huge jump from the 38 buildings torn down in 2012. More than 19,000 Latinx were displaced from their homes and neighborhood between 2000-2014; today, only 45 percent of community residents are Latinx. Families who have lived in the community for generations are pushed out when rents of $600 or $700 for a family apartment skyrocket to $1,300 or more, overnight.
Two realities existing in one community.
Engineered community transformation, housing and land use inequities — through redlining policies and urban renewal projects — are not new. Redlining drained wealth from African American communities, and urban 'renewal' projects during the mid-20th century replaced miles of residential buildings and neighborhood businesses with large institutions and expressways, all of which contributed to the social, class  and economic color lines that divide Chicago today. What's different now is that displacement in Logan Square is happening while our eyes are wide open to its deleterious, even disastrous consequences, yet at a time when strong community-based institutions are prepared to stand for equitable redevelopment.
"Some people say gentrification in Logan Square is already done," Christian Diaz, of Palenque LSNA, notes, "But that's an excuse not to intervene. We can change the course of this trajectory."
The challenge for Elevated Chicago partners Palenque LSNA, LUCHA, and the Center for Changing Lives (CCL) is to balance opportunities for change with maintaining community stability, character and culture while bridging a gulf of differences and mistrust between long-time and newer residents. According to LUCHA executive director Juan Carlos Linares, "it's a perfect time for intervention."
In gentrifying communities like Logan Square, buildings are purchased, demolished or rehabbed so owners can double or triple their rental revenue. And of the thousands of new housing units constructed in the area, most are studio and one-bedroom apartments. To preserve home ownership and affordable housing, LSNA is working with LUCHA and the Center for Changing Lives to establish a community land trust that will purchase historic two- and three-flat buildings as they become available, allowing residents to remain in affordable rental apartments; existing homeowners also will have the opportunity to preserve their property in the land trust, in exchange for rehabbing their buildings.
In an overheated market like Logan Square, transit-oriented development has been a factor in overdevelopment.  The community organized to demand that the City-owned parking lot adjacent to the Blue Line Station be redeveloped as affordable housing — of the 100 units to be built, 30 will be 3-bedroom apartments and 50 will be 2-bedroom apartments. In all, 40 units will be funded by the Chicago Housing Authority.
Additionally, the coalition has established the plaza surrounding the Blue Line Station as a space for community-building and cultural expression. To amplify the cultural traditions of the neighborhood, youth from LSNA's social justice and leadership development initiative worked on a mural for the plaza that celebrates Logan Square's Latinx heritage. Dill Pickle Collective, a local food co-op, donated the wall on which local artist Dorius Dennis painted the mural.
Youth leadership has also taken practical steps toward shifting the balance of decision-making power. In investigating zoning procedures, they zeroed in on a seemingly mysterious process whereby a building or site is taken over for a purpose unknown to and, potentially, unwelcome by the community. The youth researchers successfully advocated for newly designed signage that alerts residents to proposed changes, includes a design of the proposed project, and invites participation in a zoning meeting, replacing the small, inconspicuous signs, written in undecipherable industry language and successfully bringing transparency to  historically hidden zoning approval steps.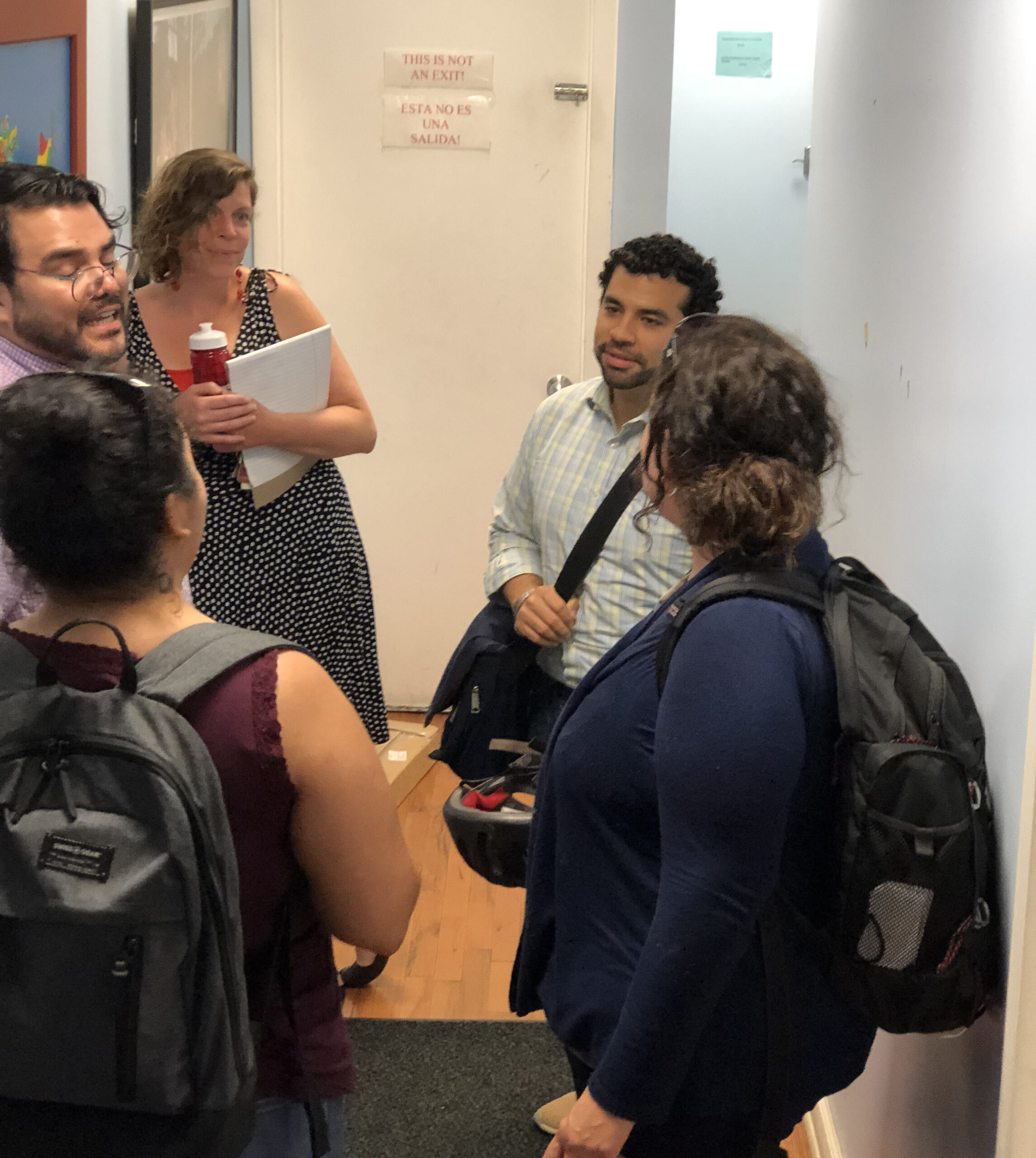 (l-r) Lissette Casteñeda (back to camera) Christian Diaz, Jennie Fronczak, Juan Carlos Linares and Julianna Gonzalez-Crussi at a planning meeting.
Logan Square is also the site of the first multi-family passive house in Illinois, developed by LUCHA, along the 606 Trail. The 6-unit building at Drake and North Avenues, now home to evacuees from Puerto Rico, is the first of nine buildings with affordable rental units that will be constructed along the Trail. Apartments are awarded to qualifying families through an official lottery; 543 families have applied for the 45 new units. 
In 2016, there was a proposal to convert the former Grace's Furniture building near the new Logan Square Station into a luxury condos; the community pushed back vigorously and countered with an idea to build a boutique hotel with a commercial restaurant. LSNA and CCL achieved a great victory in January 2019 when they secured a Community Benefits Agreement (CBA) with Blue Star Properties, committing the developer to hiring at least 75 percent of hotel and restaurant staff from the surrounding neighborhood and paying a minimum wage of $17 per hour. 
 For CCL executive director Juliana Gonzalez-Crussi, who, along with Diaz, negotiated the CBA, the CBA achievement reflects the heart of the organization's mission to assist clients in realizing their potential by identifying assets and competencies for resource development, employment, and financial management. CCL's co-active coaching model and evolving service model mirror the approach to formulating the CBA; the organization doesn't impose priorities or values, instead, staff members offer their support as curious facilitators who ask, "What is important to you?" 
 For LSNA, LUCHA, and CCL, Elevated Chicago creates opportunities to sit at the table with other organizations from their community who are addressing many of the same challenges. "We're able to share ideas and strategies, and are more likely to work together on critical advocacy issues because of this opportunity," says Jennie Fronczak, LUCHA  director of development and marketing.
A critical next step forward is bringing longtime and newer residents together. Elise Zelechowski, who works on social impact initiatives at ThoughtWorks, and her husband, Tony Bezsylko, embody multiple identities and play multiple roles as area residents and co-owners of Cellar Door Provisions, a farm-to-table restaurant in the neighborhood. Bezsylko grew up in nearby Avondale, but their business attracts the newer demographic, which creates opportunities to host community meetings that address challenges and seek common ground among all residents. It's important to "[make] people aware of dynamics that might not otherwise be obvious… what is lost when our neighbors who have been around for 30 years cannot live here," notes Zelechowski. 
"There's been a lot of community planning in the past. What makes this different is the highly intentional facilitated collaboration… Elevated Chicago feels like a cohort with a lot of trust. We're talking about transit-oriented development through the lens of racial equity — not just to reduce car traffic for environmental sustainability or density for the sake of resource use, but understanding the dimensions of equity, to make sure people who live here can stay and thrive. It's a very inspiring frame for this work."