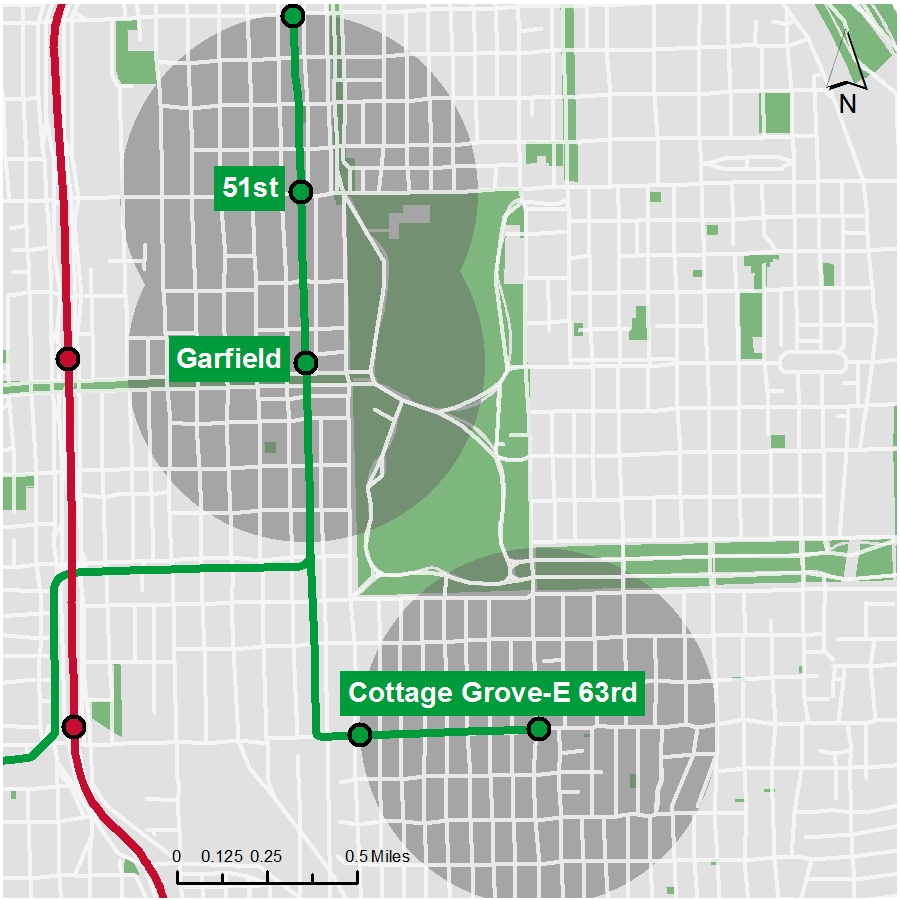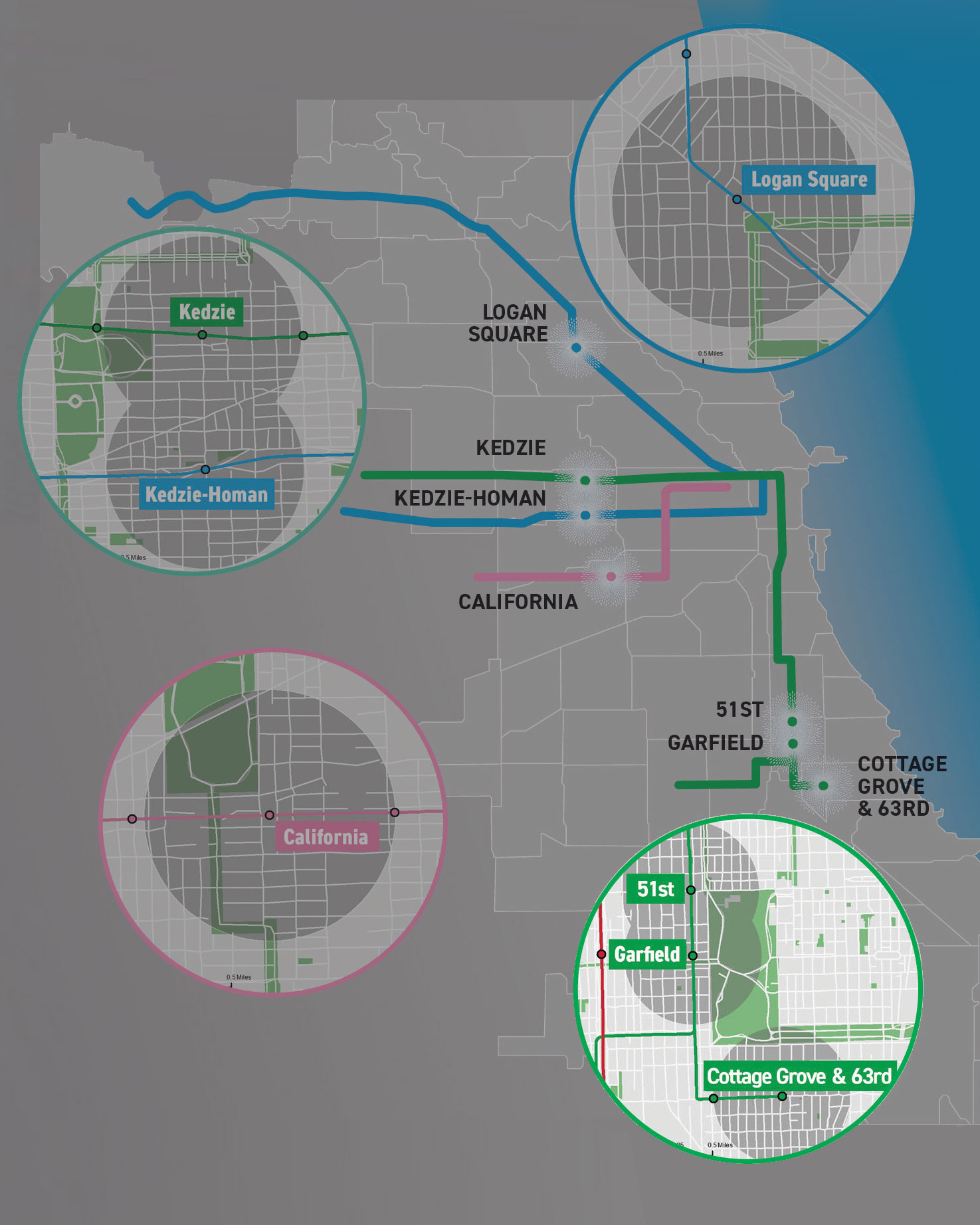 The Green Line south is a stretch of elevated rail that lines the western edge of the city's largest green space, Washington Park, and it passes through a part of the South Side that's rich with history and culture.  The 51st Street, Garfield Boulevard, and Cottage Grove Avenue stations form the Green Line South Corridor, and they serve the largely African-American neighborhoods of Grand Boulevard, Washington Park and Woodlawn.  Look closely, and one sees new housing, trendy new restaurants and even a squash center for youth – places that join the nationally known DuSable Museum of African American History as fixtures of a growing community that's been a decades-long contributor to Chicago.

The Kedzie Corridor on Chicago's West Side is bookended by the Kedzie-Homan Blue Line station on the south and, about a mile away, the Kedzie Avenue Green Line station at Lake Street.  City services have a notable influence on the corridor, including Westinghouse and Marshall public high schools, a large CTA bus barn and the Area 4 Chicago Police Department station.  At the Kedzie-Homan station, commuters walk down to the platform that sits along the center of the Eisenhower Expressway, while the Kedzie Avenue station casts a shadow – familiar to many elevated train historians – over Lake Street.  Though the corridor has vacant lots and only a few retailers, such as cell phone and beauty supply stores, there's heart and hope there that's found in the sturdy single family homes, Nichols Tower at Homan Square and the future home of The Hatchery Chicago, family centers and more.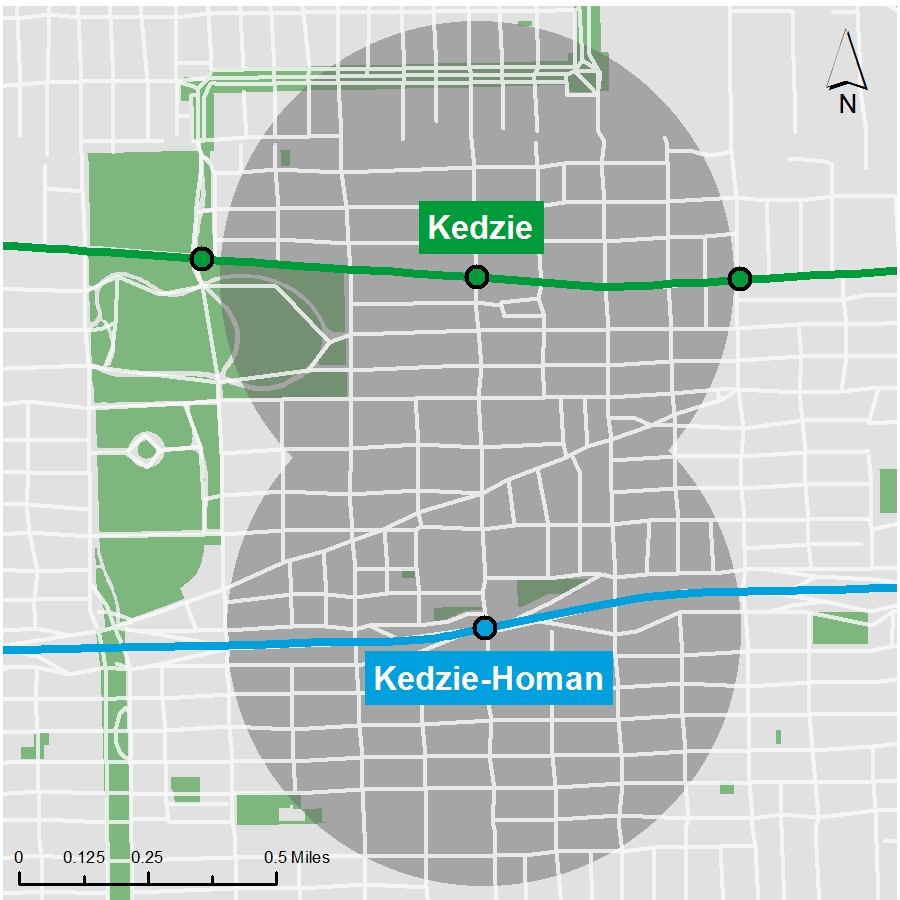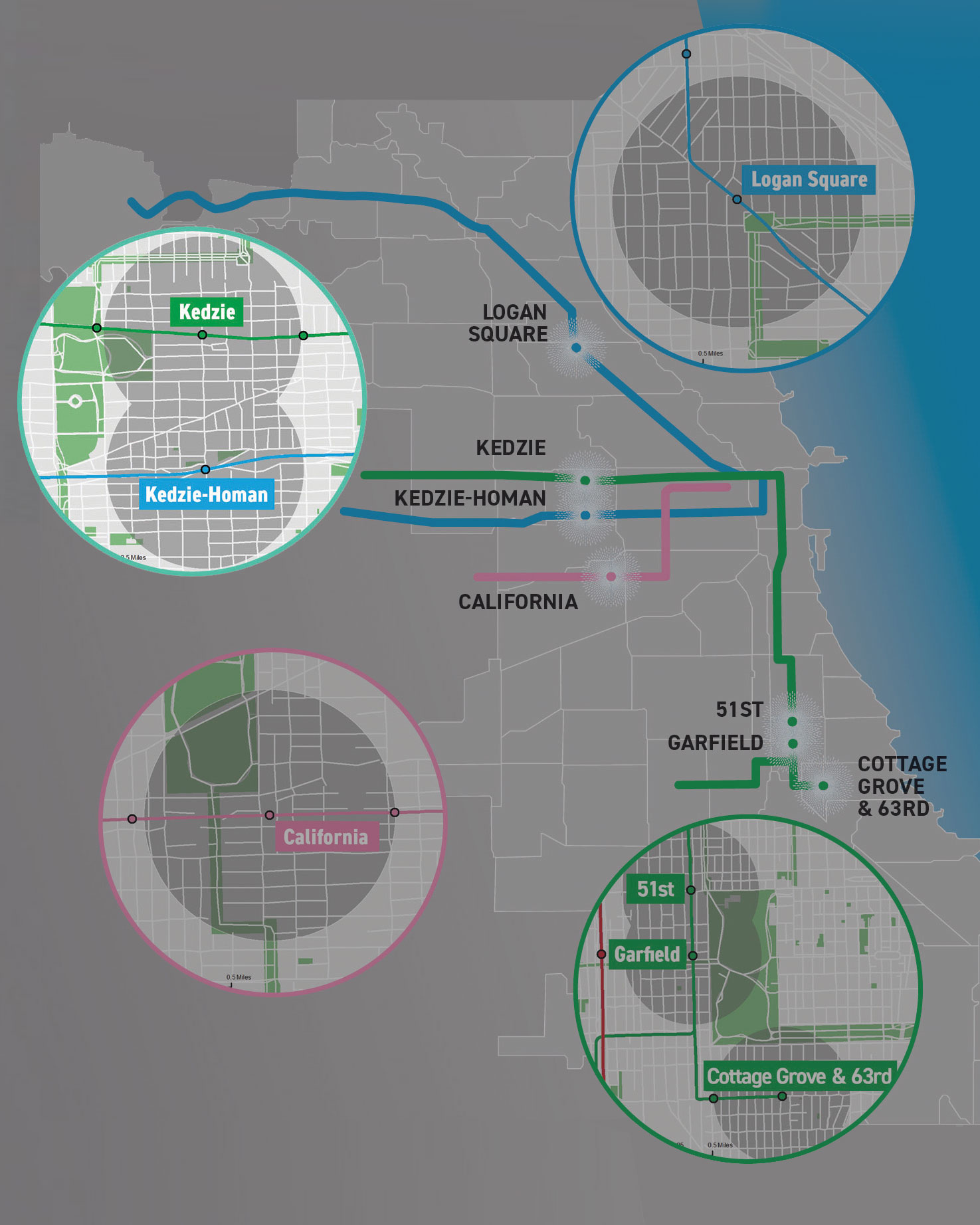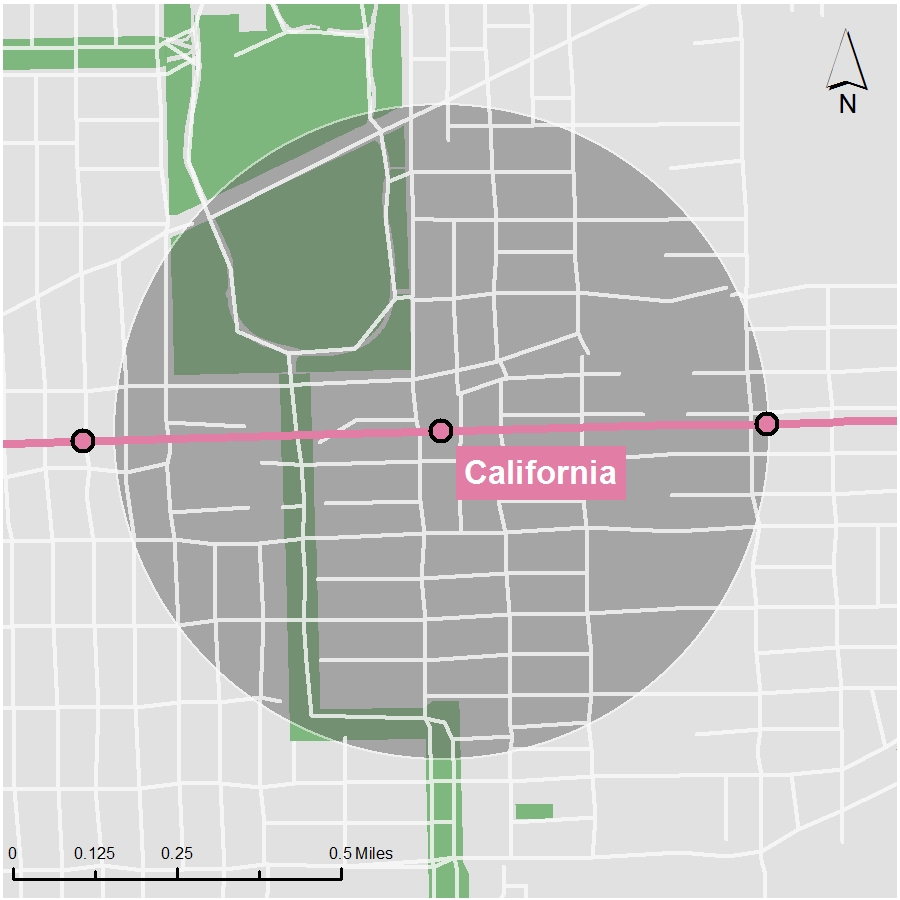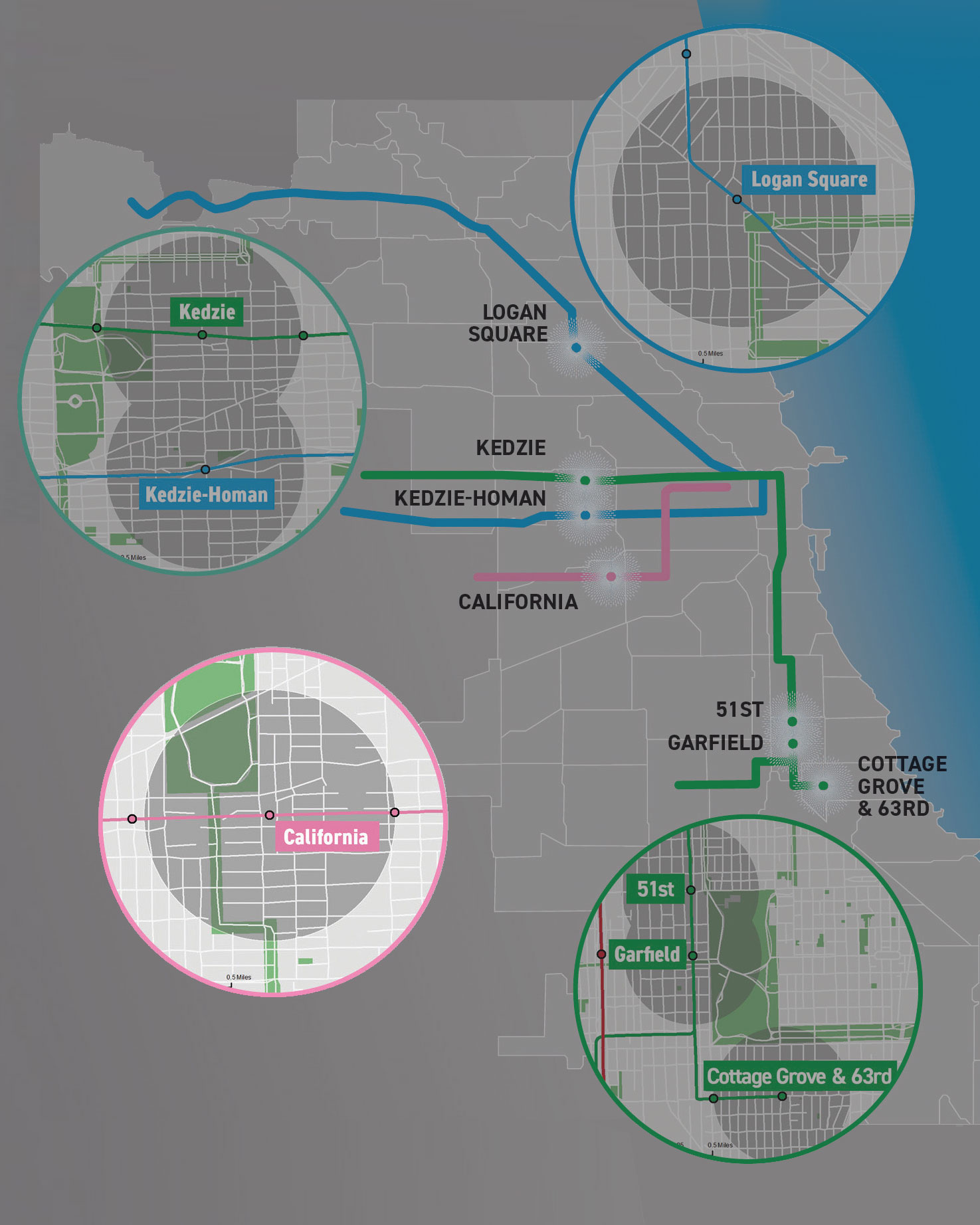 Little Village, or La Villita, is a vibrant community of proud Mexican and Mexican-American residents whose Southwest Side neighborhood is dense with businesses and three-flat residences.  The California Avenue station on the Pink Line sits atop California Avenue, and it is only a short distance from the sprawling Douglas Park, Mt. Sinai Hospital and hundreds of clothing stores and restaurants doing business on 26th Street, a shopping district that's second only to Michigan Avenue in terms of commercial activity in Chicago.

This station serves a neighborhood that's filled with diverse retail businesses, arts institutions and more. The Logan Square subway station is located in the Northwest Side neighborhood of the same name. The station itself has seen a lot of change throughout the years:  Until 1970, it was the final of this elevated line until the expansion toward O'Hare was completed and its Blue Line name was given.  These days, it's easy to see that change has come to the neighborhood, as construction sites provide evidence of more retail growth and new residential housing.